Student Loan Apps to Pay Off Student Loans
Student loans are one of the largest sources of debt in the United States. 55% of graduates from the class of 2021 borrowed money to pay for school, and among borrowers, the average debt is $29,076.
Student debt can be scary, and staying on top of your payments is critical. Missing payments can lead to hefty fees and damage to your credit. If you stick to your payment plan, you can pay down your loan balance and eventually be debt-free.
Thankfully, there are plenty of student loan apps out there designed to help student borrowers manage and repay their debts.
9 student loan apps
ChangEd
Cost: $3 per month
Platforms: iOS, Android
Ratings: 4.7/5 (App Store), 4.4/5 (Google Play Store) as of May 3rd, 2021
Why it stands out: Make extra payments toward your student loans using spare change
ChangEd was founded by two brothers who graduated college with student loan debt. They realized how difficult it was to deal with student loans and set out to find a way to make it easier to repay their debts. ChangEd was the result.
With ChangEd, you link your student loans and your financial accounts. When you make a purchase using your debit card, ChangEd automatically rounds the purchase up to the next dollar and puts the difference in an FDIC insured account. You can then use that money to make additional payments toward your loans.
The app also has some bonus features, like a dashboard that lets you see all your loans in one place and the opportunity to earn bonus cash that you can use toward your student loan debt.
Givling
Cost: Free (optional purchases available)
Platforms: iOS, Android
Ratings: 4.6/5 (App Store) 4.4/5 (Google Play Store) as of May 3rd, 2021
Why it stands out: Help crowdfund student loan payments by playing a game
Givling is part crowdfunding platform, part trivia app. When you sign up for Givling, you're automatically placed in a team of three. You can answer trivia with your teammates to earn points. As you earn points, you move up in the Givling queue.
Givling regularly looks at the queue, takes the top person in it, and helps pay off their college loan. This means that doing well at trivia could help you pay off your debt.
While you can play two trivia games for free each day, you can pay additional fees to play more trivia, thus earning more points. There are other ways to spend money that can help you earn points to move up the queue as well, so it's worth thinking about whether that money would be better spent directly on your debt.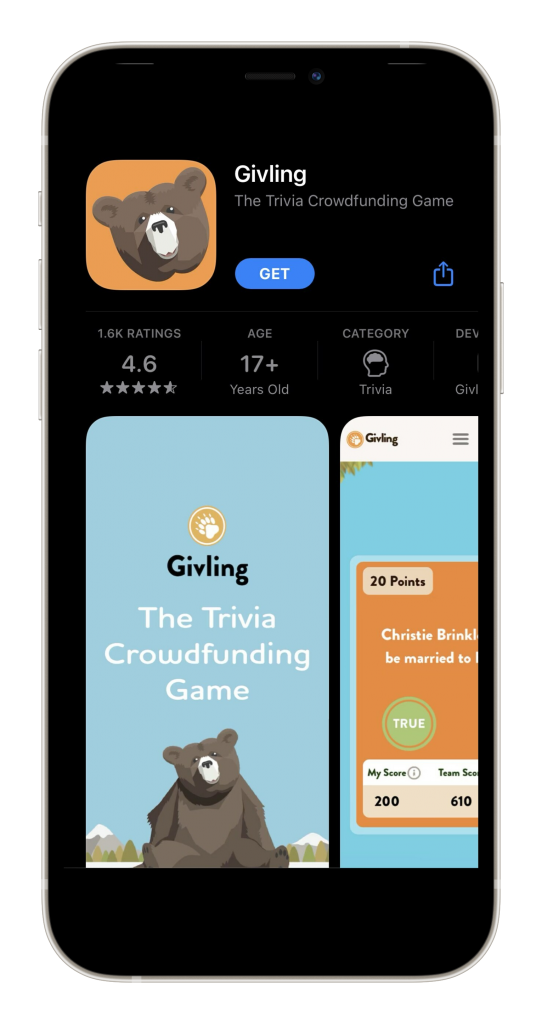 Mint
Cost: Free
Platforms: iOS, Android
Ratings: 4.8/5 (App Store), 4.5/5 (Google Play Store) as of May 3rd, 2021
Why it stands out: A dashboard for all of your financial accounts with built-in credit monitoring and budgeting
Mint is an app designed to help people efficiently keep track of their finances. You can link all of your bank accounts, credit cards, investment accounts, and loans in the app and view all of them on a single dashboard.
With Mint, you can build a budget and track it automatically. This type of budgeting can make it easier to watch your spending and pay down your student loans faster. As you pay off your loans, you can watch your debt decrease and net worth increase on the Mint dashboard.
One bonus is that Intuit, the makers of TurboTax, own Mint. If you use TurboTax to file taxes, you can easily import data from Mint to make filing your taxes a breeze.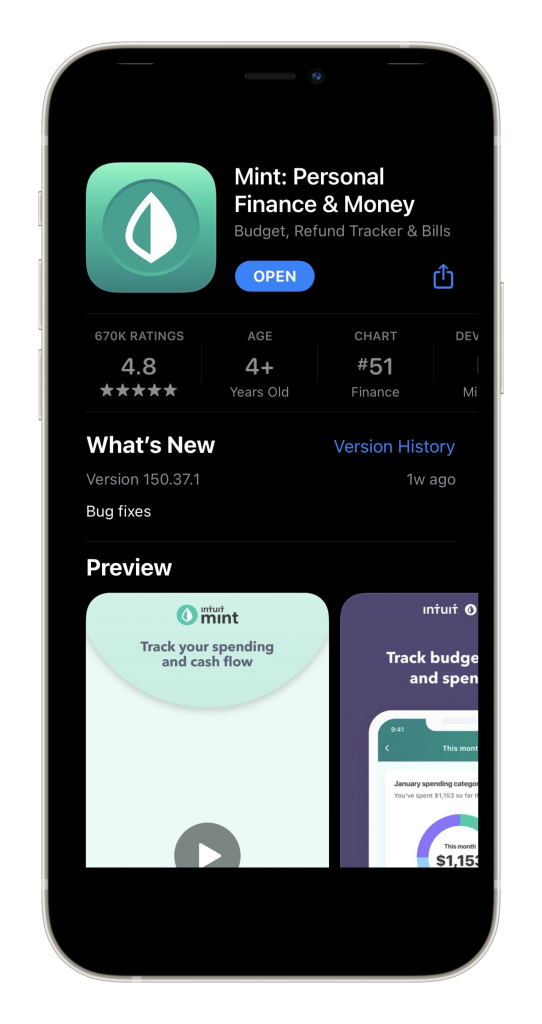 EveryDollar
Cost: $0 – $99 per year
Platforms: iOS, Android
Ratings: 4.8/5 (App Store), 4.2/5 (Google Play Store) as of May 3rd, 2021
Why it stands out: A budgeting app built with the Ramsey style of budgeting and financial management in mind
EveryDollar is a budgeting app designed by RamseySolution. It revolves around the idea that every dollar you earn should have a job, whether buying essentials, repaying debts, or investing for the future.
EveryDollar works similarly to Mint, letting you link your accounts and view all of your financial information on a single dashboard. It also helps you build and keep track of a budget, making you more mindful about spending.
The basic version of EveryDollar is free, but if you want the full version, including automatic transaction import, you have to pay $99 per year.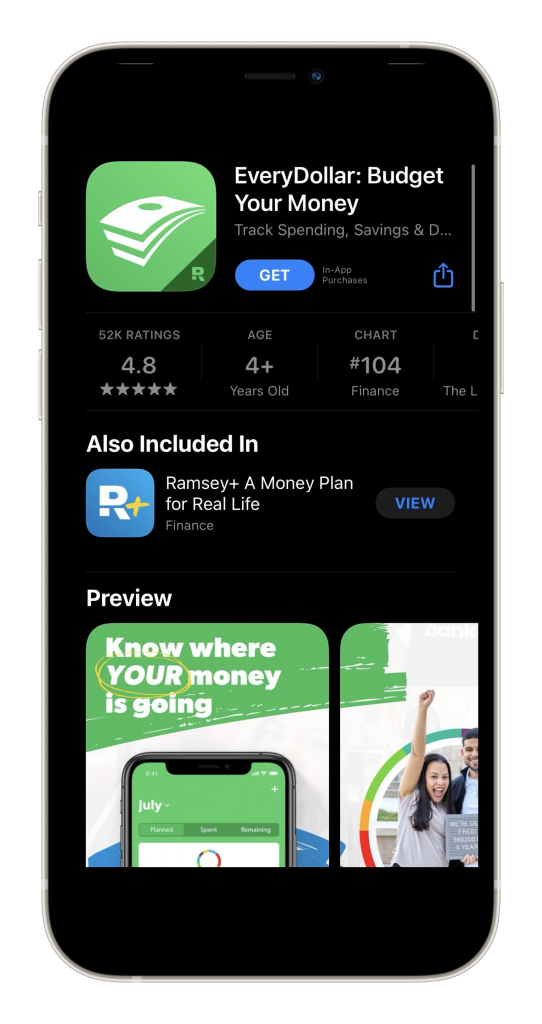 Fidelity Spire
Cost: Free
Platforms: iOS, Android
Ratings: 3.7/5 (App Store), 3/5 (Google Play Store) as of May 3rd, 2021
Why it stands out: Budgeting and financial education tools paired with an investment account
Fidelity Spire is a tool designed by Fidelity, the investment company, as an entry-level app to help people control their finances and learn more about managing their money.
Spire is a goals-based app, so you can create goals and keep track of them through the app, whether those goals are saving a set amount of money or paying off your debts. Like many other apps, Spire makes it easy to link your accounts and view everything on a single dashboard.
A unique feature of Spire is that you can invest in stocks and ETFs directly through the app, starting with as little as $1. Investing is important, even if you're still paying off debt, and Spire can give you some experience with the world of investing.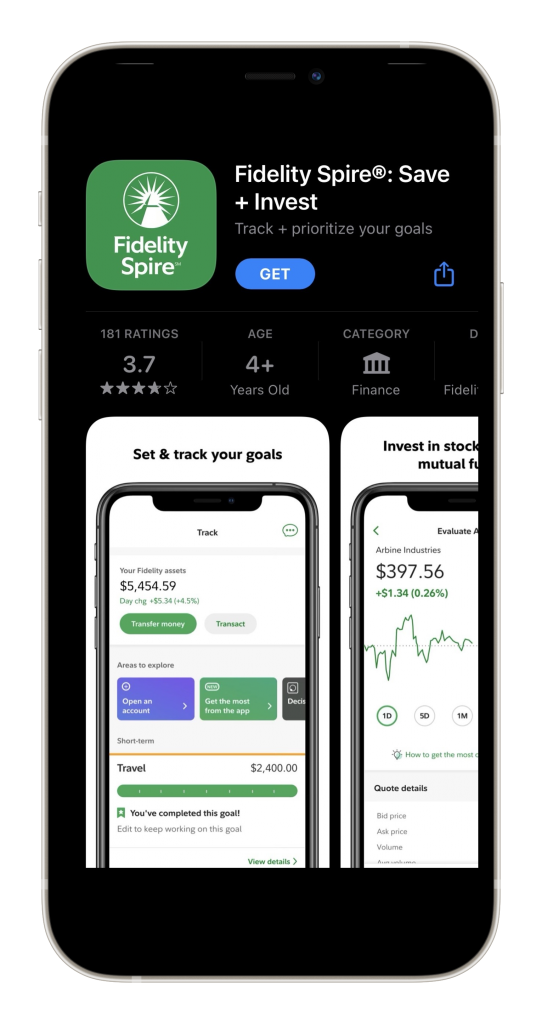 Qoins
Cost: $2.99 – $4.99 per month
Platforms: iOS, Android
Ratings: 4.7/5 (App Store), 4.1/5 (Google Play Store) as of May 3rd, 2021
Why it stands out: Automatic debt repayment with access to financial education tools
Qoins is a tool that helps people pay off their debts using a few different strategies. When you sign up, you can choose how you want to pay your debt, such as payroll deductions, purchase round-ups, or smart savings based on your checking account's balance.
Based on your preferred method, Qoins will monitor your accounts and send additional payments to your lender when possible. The company claims that its customers can pay off debts up to ten times faster than people who follow the standard minimum payment schedule.
Qoins can also help you with other financial goals, such as building an emergency fund. This feature can make it an excellent app to use if you're starting to establish your finances and want to get on the right track.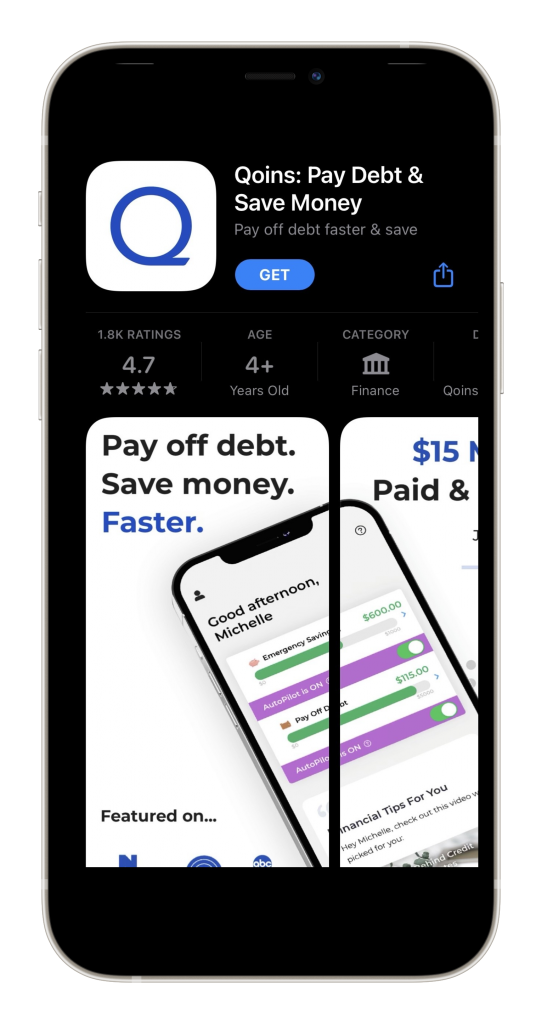 Undebt.it
Cost: Free ($12 per year for Undebt.it+)
Platforms: Desktop
Ratings: N/A
Why it stands out: A simple website that can help you see how extra payments help you save money.
Undebt.it is a website application designed around the idea of the debt snowball. The debt snowball strategy involves paying off your lowest balance loans first, then using the money that you were spending on those loans to make extra payments on your larger ones. Your payments grow like a rolling snowball until your debt is gone.
With Undebt.it, you can enter your debt information and see how quickly you can pay off those loans using the debt snowball strategy, as well as the amount that you'll save on interest over the life of each loan.
Undebt.it+ costs $12 but adds a lot of functionality to the site, including text message reminders for payments, savings challenge plans, integration with You Need a Budget, and other useful tools.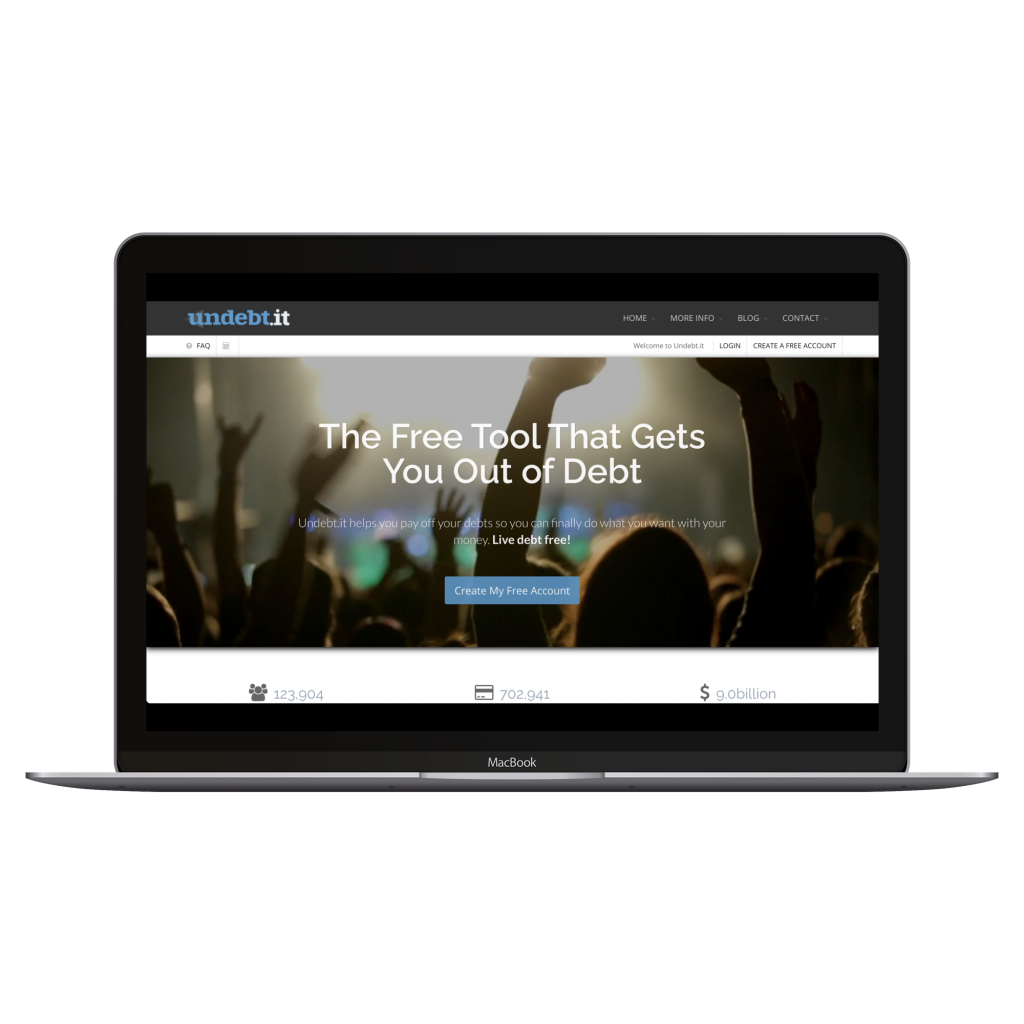 Debt Payoff Assistant
Cost: Free
Platforms: iOS
Ratings: 3.6/5 (App Store) as of May 3rd, 2021
Why it stands out: A simple tool that helps you keep track of all your debts
Sometimes, simplicity is what you need. Debt Payoff Assistant is a simple iPhone app that lets you view all of your debts in one place. It doesn't have some of the fancy features of other tools like automatic account importing or saving your spare change, but it is a practical way to track your debts.
When you open the app, you can enter your loan information and view a dashboard that breaks down your different types of debts and your total amount of debt. You can then use the app to see how much you'll save using different payment strategies such as the debt snowball or debt avalanche.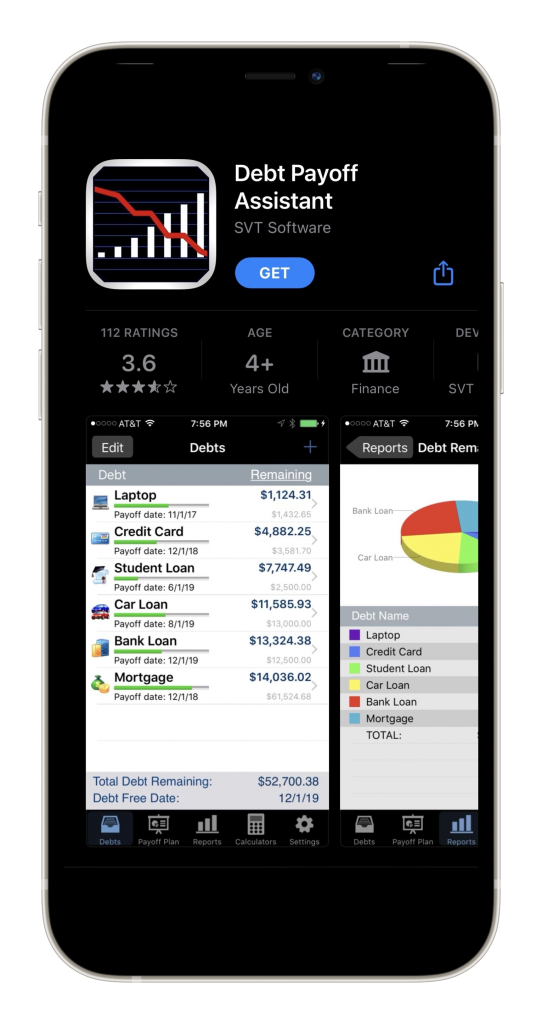 Quicken
Cost: $35.99 – $105.99 per year
Platforms: iOS, Android
Ratings: 4.6/5 (App Store), 3/5 (Google Play Store) as of May 3rd, 2021
Why it stands out: Track and manage all of your financial accounts with a single tool that syncs between mobile and desktop
Quicken is one of the better-known financial apps. It can help you keep track of all of your accounts, including bank accounts, credit cards, investments, and loans, in a single place. Like other tools, once you link your accounts, Quicken will import the data and build a dashboard you can use to view everything in one place.
Quicken includes a Debt Reduction Planner tool that can help you develop the best strategy for repaying your debts. This debt looks at your income and debts. Based on your ability to make payments, this tool will build a plan that you can adjust as needed.
One thing that sets Quicken apart is that you can transfer money between accounts and pay your bills directly in the app. If you have multiple accounts with different companies, this can make managing your money much more manageable.
Other student loan apps
You may be able to find other apps out there that can help you manage your student loans. Our list includes some of the more well-known apps available to try and avoid including any apps that may get shut down in the future. For example, the Pickpocket app was created to help students pay off student loans, but then just disappeared.
Working with companies with strong reviews and a long history of success is always recommended so that you can have your app for the entire duration of your student loan repayment period.
Student loan apps FAQ
These are some of the most frequently asked questions about student loan apps.
Can a student loan app save me money?
Yes, student loan apps can help you save money, but it all depends on how you use them.
Many of these apps, like Mint and Debt Payoff Assistant, are free to use. They can help you keep better track of your finances and may help you find extra cash to pay down your student debts. Every dollar you put toward debt enables you to save on interest, meaning these apps help you save money.
Other apps charge a fee for their services, so you'll need to save more in interest than you pay for the app. It's up to you to decide whether you'll save more than you'll spend if you use premium apps.
Do student loan apps cost money?
Some student loan apps, like Qoins, charge a fee for their service. Others, like Givling or Undebt.it, have optional fees that you can pay to get additional benefits.
Before you decide whether you should use these apps, you should think about the costs and the benefits. If you save more on interest charges than you'd pay to use these apps, it may be worth signing up, even though they charge fees.
Can student loan apps assist with other financial goals?
Many student loan apps can help you accomplish other financial goals.
Mint is a general financial tracking app that you can use to monitor your savings and investments and set goals. It can also help you track your credit, so the app can help you save and improve your credit score.
Qoins can help you build an emergency fund while you pay your student loans.
Each tool has strengths and weaknesses, and some apps' strength is that they're multifunctional. If you want an app that can help with multiple goals, look for features that apply to more than just debt repayment.